UNICEF and its partners, including MeltWater Entrepreneurial School of Technology (MEST) and HOPin Academy, are excited to welcome twenty young startups into the second cohort of the UNICEF Startup Lab beginning February 2021.
This six-month program will accelerate startups with innovative, open-source, and market-driven solutions addressing complex problems that impact children and young people in Ghana. UNICEF and MEST have joined hands with iCode, Ho Node Hub, and HopIn Academy for this program.
The UNICEF Startup Lab provides a platform for co-creation by drawing partnerships from the Ghanaian startup ecosystem (including among civil society, academia, and the private sector), to identify and enable the next generation of impact-focused businesses.
One cofounder from each startup will benefit from a six-month entrepreneurship program, including curriculum delivery, soft-skills development and mentorship. The UNICEF Startup Lab also aims to provide opportunities for broader engagement and empowerment, especially for girls.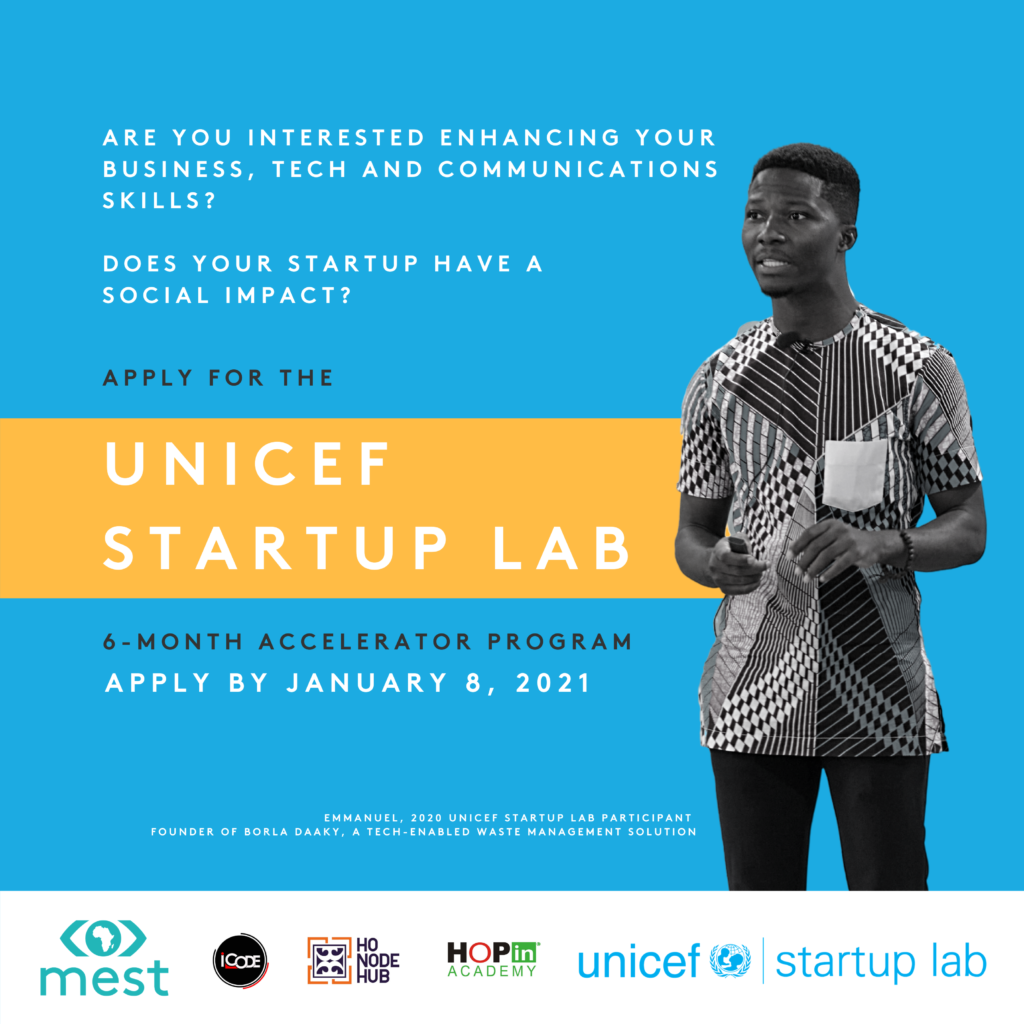 In 2019, UNICEF received over eighty-five applications in the first round, out of which thirteen were selected.
These thirteen entrepreneurs proposed solutions to address issues in agriculture, health and nutrition, water, sanitation and hygiene, education, and social accountability. They got the opportunity to work on-site with UNICEF program specialists to gain valuable market knowledge, prototype their products, and test solutions on the ground.
Startups joining the program in 2021 will also gain access to investment opportunities, including possible support from the UNICEF Innovation Fund.
Interested startups should apply here
Open Applications for UNICEF Startup Lab 2021