My name is Zakaria Raha, a third-year Development Education Studies student at UDS Tamale Campus. I would like to talk about my internship experience in this article.  Have you wondered why students graduate school, undertake national service and most of them end up joining what is commonly known as unemployed graduate students association?
This happens when we overlook the importance of undertaking internships whilst in school. At a certain level at the university, this was what kept popping in my mind. What can I do in order not to be part of these groups of students after my national service? How do I get to experience in the working environment before I even graduate from the uni?
The answer to these questions is to undertake an internship whilst in school. I started my internship at Hopin Academy, an eco-system support organization based in Tamale, the Northern part of Ghana in 2019. After attending numerous entrepreneurship and tech-related programs at Hopin Academy, I decided to undertake an internship to broaden the scope of my knowledge as a student and someone who would be in the job market soon. This internship has been of great importance to me as I have discovered the gap between classroom learning and what I need to know in the real working world.
The experience has been insightful, It has helped sharpen my interpersonal skills with people on the professional level which I would not have learned in the classroom. This helped me in managing my emotional intelligence at the workplace.
Another knowledge I gained through this internship is work ethics. In every working environment, there are codes and conducts that govern every organization and everyone has to abide by. When I first started this internship, I was not able to work under pressure due to my lack of experience. As of now, I can work under pressure and yield great results at the end. Technology is something we cannot do away with as it keeps growing bigger day in day out, which we need in our daily routine at the workplace. I have had basic computing and coding skills during my internship which I am working on becoming very good at especially as a female.
One important skill we need to exhibit at the working place is the ability to meet deadlines. This internship has taught me how to work to meet deadlines, and time management skills. We all can testify to the fact that we would not get any of these in the classroom but they are very important to us as potential employees so the question is how do we get these skills? The answer is Internships.
Most of us do not know what financial literacy is. It is crucial to know how to manage your finance even before you start working. My internship has given me a better understanding of my skills and has improved them a ton which I am so proud of. It has taught me more than I could have imagined. I know you are still wondering why you should undertake an internship to acquire these skills when you can take courses online to get some skills. Now let me give you a scenario to end this article.
An organization wants to hire someone for the position of a planning officer and two candidates apply for the position.  The two candidates have just completed their national service and looking for a job. Candidate A has no working experience or no internship experience. Candidate B has had five(5) internships, eight(8) volunteering experience. Now comparing these two candidates, who do you think has a higher chance of being employed? It is going to be candidate B because of the experience gotten from these internships, it would be easier to work with someone who experiences than to work with someone who has no experience at all.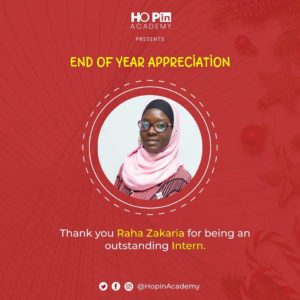 In conclusion, this scenario has summarized the importance of grabbing internship opportunities whilst in school. It gives you the vast knowledge you would need both in school and in the working environment. I, therefore, urge you to grab opportunities by doing internships, you have a greater advantage than those who do not undertake internships. Finally, you would be able to apply the knowledge that you have gained in the classroom to the workplace.
Internship Experience at HOPin- Zakaria Raha