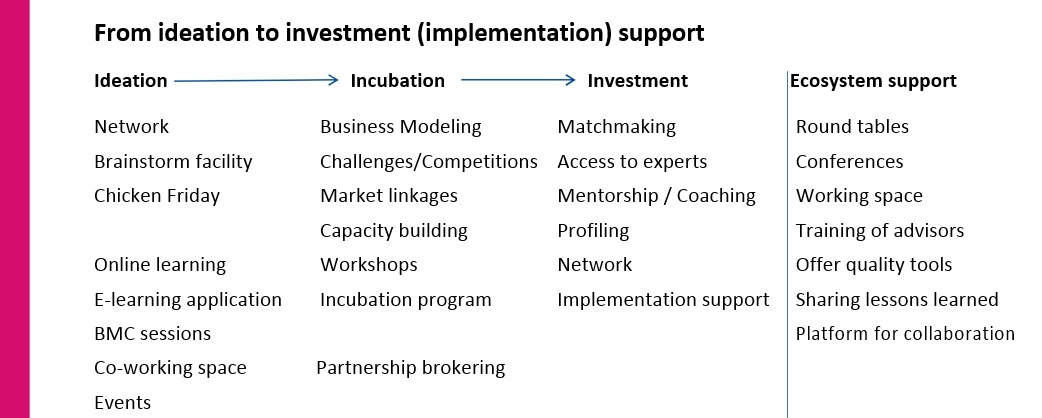 TRAINING
We provide world class training across a wide range of transferable skills. ( Webdesign, graphics, digital Store Telling, Online Communication, Online Marketing And Accounting Software) for professionals and entrepreneurs. our training programmes integrate a life-long learning approach with focus on carrer pathways, employability and entrepreneurship our flexible delivery models incorporate a face-to-face learning.
WEB AND SOCIAL MEDIA.
we provide world class training on webdesign and social media usage skills to cooperate bodies, students, entrepreneurs and professionals
HOPIN INCUBATOR
our entrepreneurship incubator programme provides five weeks training or more on  :
Self-Discovery
Idea Generation
Market and Customer Orientation
Business Modelling and Revenue streams
Goal setting and action plan .
We also work to get the need funding for ideas born out of our incubators
PACKAGES AND PARTNERSHIP
We offer special packages to small and medium size organization in Tamale on how to brand their organization, tell their stories/results/successes through social media, video, film and newsletters
MENTORING
through our programmes and partnership we offer access to mentors with expertise and experience in diverse fields. mentors come from local and international business community
PARTNERSHIP
We work with partners to deliver training and development opportunities to aspiring professionals and entrepreneurs. we engage partner agency actively in the work we do and in the delivery of donor-funded projects. we are always looking for new partnership that offers innovative ways to bring opportunities to young people in northern Ghana.
EVENT SPACE
We have training room, conference room and an auditorium. giving you flexible event venues and creative meeting space.
WORK SPACE
We offer state-of-the art work space, laptops, WI-fi and other innovative tools as well as meeting space