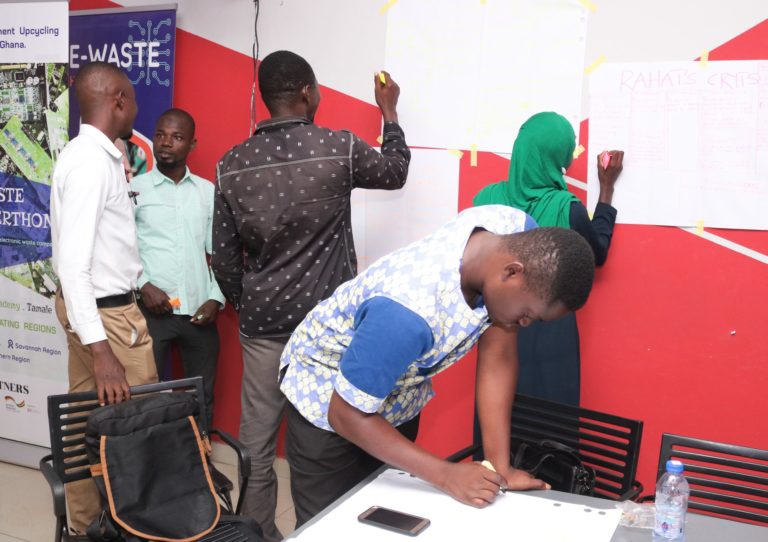 HOPin Design Bootcamp
Our Annual Design Bootcamp convenes design enthusiasts and professionals accross Northern Ghana to learn and share current principles of design and explore new technologies and tools for design. The bootcamps range over a divide of design areas including UI for web and mobile platforms, Motion graphics and Animation.
Teen Mothers Entrepreneurship Support Program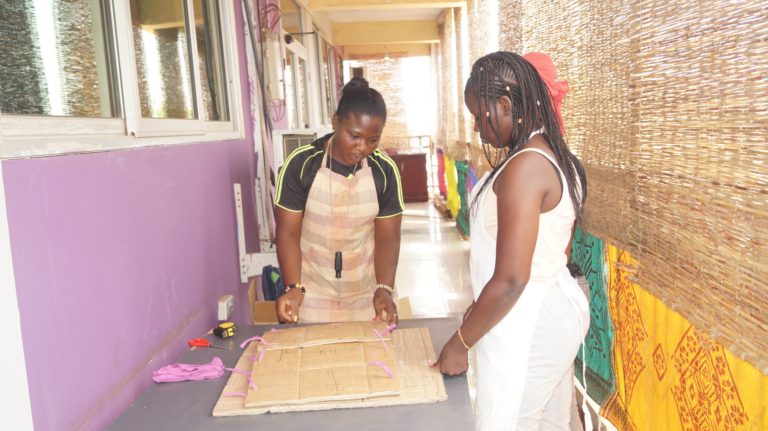 TMESP
At the Academy, we are making a deliberate effort to promote gender inclusion in all our programs. Teen mothers are usually left out in most entrepreneurship programs and we seek to bridge that gap. So we are running two cohorts of training teen mothers on basic entrepreneurship skills yearly. We train them on soap making, baking, etc and also some soft skills including basic accounting and marketing etc. We also ensure there is a safe space for their babies as they undergo the training.
Tamale Social Media Weekend
Tamale SMW
In 2019, we premiered our maiden event of #TamaleSMW which was themed "JINATOBU" a Dagbanli word which translates as engagement or discussion in English. We sought to engage the youth and other stakeholders in Tamale on discussions around how we can use social media as a vehicle to drive innovation, promote the Northern story and activism. It was three days of fun filled activities, live discourse and breakout sessions. We did this in partnership with GIZ -Ewaste and with the support of most of our startups.

Fix That Pump
Its estimated that about one borehole serves about 50 families, which is about 250 people in rural areas of Ghana facing water problems. Around 16,000 people, mainly women are water providers in the families. It also serves as a main source of irrigation for their farms during the dry season. HOPin Academy in collaboration with the Schmitz foundation together with some water experts in borehole water, and rural authorities are working to develop Innovative solutions and approaches to increase the durability and sustain clean and affordable borehole water which rural communities are dependent for their water supply in Northern Ghana. That birthed the initiative dubbed Fix that Pump. One of the ways we seek to do this is by renovating old hand pumps and much more. We've run feasibility studies on this project and are currently applying for fund to make this a reality.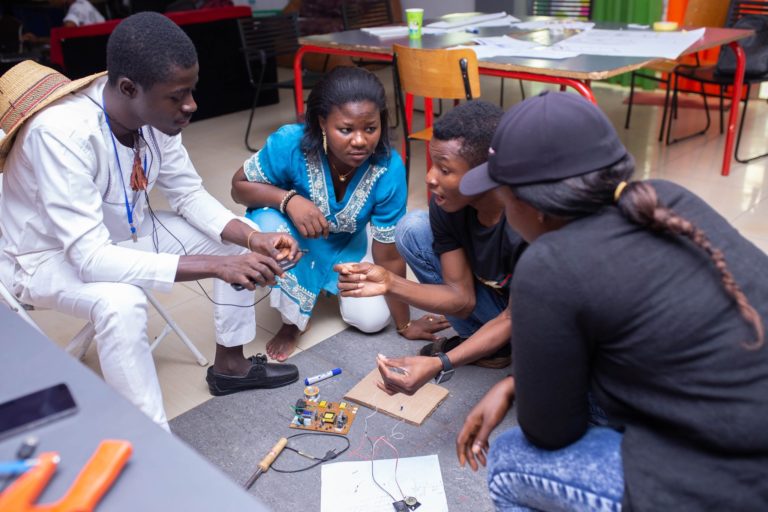 IoT Training Program
Internet of Things is an interconnection of computing devices embedded in everyday objects, enabling them to send and receive data or perform unique and specific tasks. The annual program brings together young innovators in one space for mentorship and guidance towards using unique tech ideas to create and solve social problems and challenges. Do you have a unique idea or innovation that can solve problems or make any particular work easier? Here is your chance to participate in HOPin Academy's Internet of Things application. Kindly click on the link below to apply for our march cohort. http://bit.ly/HOPinIoT20
P.I.T Training Program
Our Pa'ba in Techpreneurship program (P.I.T) program which translates as Women/Ladies in Technology Entrepreneurship is a program run twice every year which seeks to convene ladies interested in technology to learn coding and technology entrpreneurship. At the end of each cohort a hackathon is organized and businesses are birthed . This is to promote gender and digital inclusion in Northern Ghana.
Fellowship and Internship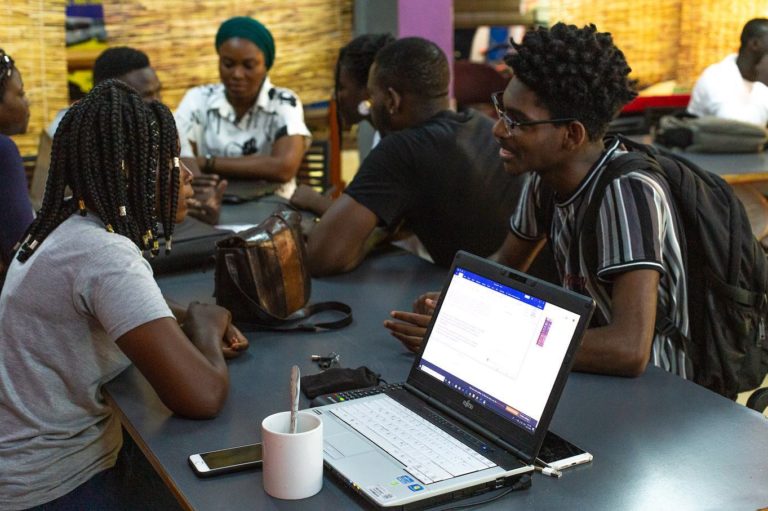 Fellowship and Internships
HOPin Academy Pre-incubation and Incubation program is a four–month, part–time program for 20 individuals who want to learn the skills and knowledge needed to establish a startup. Trainees will be offered workshops, office space, mentors, and leverage staff for key aspects of business. This program is partly facilitated and supported by fellows. Our fellowship program is designed to give fellows an immersive experience helping to build and scale businesses in emerging markets. Fellows are assigned to entrepreneurs-in-training to provide support in equipping trainees with entrepreneurial mindsets, developing ideas, business models, refining products and services and taking them to market to scale. This involves troubleshooting challenges, experimenting and running tests in solving problems and helping entrepreneurs develop clear roadmaps for their ventures. This fellowship also affords one the opportunity to work in emerging communities filled with diversity, develop critical thinking and innovative skills, and also contribute to social impact by helping build capacity, creating jobs and local wealth. Our ideal candidates are pre-MBA or MBA or MBA interns, with experience in entrepreneurship, consulting, finance, technology, human - centered design, communication, technology, marketing or operations. However, if you are a rising senior or recent graduate with the required skills and ready to challenge yourself, we are happy to talk. We are looking for individuals who believe entrepreneurship can be used as a tool to cause transformational change in society and in the world as a whole. We provide accomodation, letter of recommendation to raise funds to support your living expenses abroad and training for all our fellows.
Returnee Migrants Training
Returnee Migrants Training
Irregular migration is dangerous, if not deadly. IOM revealed that in 2015 Ghana topped the African countries in irregular migration. Over 4,400 Ghanaians arrived irregularly on the shores of Italy by sea. Nobody will ever know the number of people who lost their lives in the desert or in the Mediterranean Sea. Those who managed to arrive at the shores of Europe had various degrees of abuses; physical, sexual and psychological during the journey to the coasts of Europe and which even continue after the arrival in the destination country. Having an illegal resident status makes migrants easy victims for exploitation and criminal organizations. Hopin Academy has devised both physical and psychological steps, training's and modules to help stop and reduce illegal migration and to provide perspectives for those who are returning. These are conducted through, Training and Mentorship The training is delivered with the aim of training them to create and to manage their own business successfully, handle their budgets effectively and to understand the true meaning of entrepreneurship. Moreover, there will be further coaching and financial support for the most promising future entrepreneurs (Returnee migrants). Target Group If you are a returning migrant from Europe or the Arab Gulf region or a prospective migrant to these areas and you rather wish to set up your own business in Ghana you are very welcome to register for training. Both men and women are encouraged to apply and particularly people living with disability. Financial support. This financial support will be in a form of no interests rate loan strictly monitored by Hopin Academy in collaboration with a Savings and Loan company in Ghana.