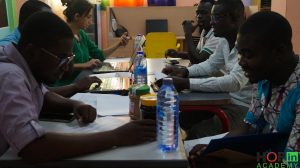 "AgriPreneurship" is a term we coined from two words "Agriculture" and "Entrepreneurship".
AGRIPRENEUR therefore refers to an individual who is an Agricultural Entrepreneur.
This community consists of HOPin Academy's network of new and seasoned entrepreneurs in the sector of Agriculture; Their products and services cut-across various industries such as food, beverages, clothing, cosmetics and beauty products etc.
We know that being a business owner can sometimes leave you feeling isolated; Which is why HOPin Academy has developed this community of similar sector and like-minded business owners who can provide ecosystem support and networking opportunities to one another.
Furthermore, we engage in discussions and help each other tackle the common issues that AgriPreneurs face.
Our AgriPreneurs Community meet-ups and events usually consist of facilitated discussions, product and service advertising and pitch sessions, best practices for investment opportunities and are always followed by open networking.
Hop in to our hub space for coffee and let's dive into life as an agricultural entrepreneur!